For English, please look further down.
Für Deutsch schauen Sie bitte weiter unten.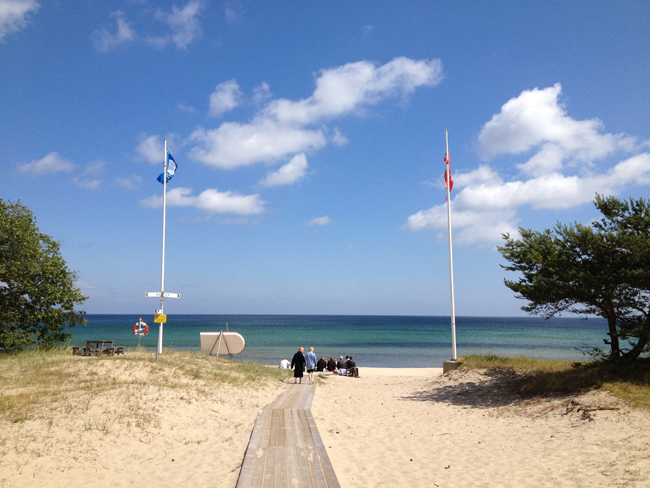 Rigeleje camping har öppet året runt, men med begränsad service under lågsäsong. Ring för vidare information. Den är fridfullt belägen ett stenkast från stranden vid den norra porten till den välkända Österlenkusten. Området saknar helt genomfartstrafik. Stranden, som är bred med ljus sand, skulle göra mer välkända semesterorter avundsjuka. Från väg 19 några kilometer norr om Brösarp krävs en avstickare på 5 km för att nå det rofyllda semesterområdet Rigeleje. Från stranden syns Stenshuvud tydligt i söder medan Åhus konturer urskiljs i norr.
Campingen är speciellt välbesökt under de skånska marknadsveckorna. Inom en radie av 20 km kan du besöka välkända Kiviks-, Degeberga- och Maria Magdalena marknad i Åhus. Under vecka 29 arrangeras årligen världens största beachhandbollsfestival i Åhus. På campingen bor du lugnt inom behändigt pendlingsavstånd. Konstrundan på Österlen besöks årligen under påskveckan av tusentals konstintresserade. Även här är campingen strategisk belägen. Degeberga golfbana ligger endast fem kilometer från campingen.
Den rofyllda campingen har ca 60 elplatser för husvagn/husbil och tält. Vid stranden finns en 18-håls minigolfbana och strandbutik med enklare servering. Receptionen och strandbutiken har under högsäsong öppet cirka 13-19, oftast längre vid fint väder. 
Vidare finns det även härliga strövområden såväl norr som söderut från campingen. Flera av säsongsgästerna har varit campingen trogen i många år, några campare har varit stamgäster i snart 40 år!
Vi hyr ut en större villavagn med varmvatten och toalett för fyra personer. Den är cirka 27 kvadratmeter med kök och allrum i ett och ett separat sovrum med en 140-säng. Under sommarsäsongen ställs förtält upp. Vi har även en campingstuga med två våningssängar, litet kök, varmvatten och toalett. Enklare husvagn med förtält för två vuxna och två barn är också tilgänglig. Medtag egna lakan. Husdjur och rökning är ej tillåtet i de olika enheterna. Bilder på campingen, stranden och våra uthyrningsobjekt finns i menyn till vänster.
För mer information, se länkarna i menyn.

 Rigeleje Camping is situated in calm, peaceful and beautiful surroundings. It is located next to the sea on the northern gate to the well-known coast of Österlen. There is no thoroughfare traffic in the campingarea. The beach, which is wide with golden sand, would do better known beaches jealous.
When you drive road nr 19 a few kilometers north of Brösarp a small detour of 5 km is needed to reach this quiescent holiday village Rigeleje. From the beach you can see Stens huvud legible in the south and the contours of Åhus in the north. The quiescent camping has approximately 60 sites with electricity for caravans and campers.
Next to the sea there is minigolf and a small beachstore. The opening hours during high season is approximately 3PM to 7PM, most often increased opening hours when the sun is shining. Furthermore there are excellent walking paths in national parks in several directions from the camping. Many of the guests have visited the camping for almost 40 years in a row!
We offer two larger cabins for four persons, approximately 27 square meters, and a caravan for maximum two adults and two children. The caravan is not last year model but it is fresh and has a larger tent connected with it. Bring your own sheets. Pets are not welcome in the cabins and caravan. No smoking inside! For more information, please have a look in the menu at the top.

 Der Campingplatz hat das ganze Jahr ueber geöffnet,  mit ein geschränktem Service in der Nebensaison.  Fuer weitere  Informationen rufen Sie bitte die angegebene Nummer an. 
Der Platz ist ruhig gelegen, nur einen Steinwurf vom Strand entfernt,  am nördlichen Eingang zu der bekannten "Österlenkusten". Hier gibt es keinen Durchgangsverkehr. Der breite Strand mit seinem weissen Sand könnte viele bekannte Ferienorten eidisch machen.  Von derStrasse Nr. 19, einige Kilometer nördlich von Brösarp, fährt man einen Abstecher von 5 km  um in das friedvolle Feriengebiet Rigeleje zu kommen.  Von  Strand sieht man deutlich "Stenshuvud" im Sueden, während die Konturen von Åhus im Norden sichtbar werden.
Während der schonischen Marktwochen ist der Campingplatz gut besucht. In einem Radius von  20 km kann man die bekannten  Märkte in Kivik, Degeberga  und Maria Magdalena in Åhus besuchen.  In der 29.Woche wird das weltweit grösste  Beach-Handball-Festival in Åhus ausgerichtet.
Der Campingplatz liegt strategisch guenstig. Die in der Osterwoche stattfindende Kunst runde ist  gut  zu erreichen,  der Degeberga  Golfplatzliegt nur 5 km vom  Campingplatz entfernt. 
Der ruhig gelegene Campingplatz hat 60  Plätze mit Stromanschluss fuer Wohnmobile und Wohnwagen. Strandnah gibt es eine 18-Loch Minnigolfbahn. Die Rezeption und der kleine Laden haben in der Hauptsaison täglich geöffnet. 
Es gibt auch die Möglichkeit einen grossen Wohnwagen fuer 4 Personen zu mieten, ca. 27 qm gross, mit Kueche,  Wohnzimmer und seperatem Schlafzimmer mit einem  140 Bett. Des weiteren gibt es eine Huette mit Stockbetten, ein eneinfachen Wohnwagen fuer 2 Erwachsene und 2 Kinder zu mieten. Bettwäsche ist mitzubringen. In den Mietobjekten ist das mitbringen von Haustieren und das rauchen untersagt.

Rigeleje är beläget längs med österlenskusten ca 7km norr om Brösarp. Vidare är det bilvägen norrut ca 20 km till Åhus, där det i sin tur är ca 17 km till handelstaden Kristianstad. Från Malmö tar det endast ca 1,5 timme att köra.

Rigeleje is situated a long the cost of Österlen, approximately 7 km north of Brösarp. Furthermore it is by car 20 km to Åhus, where it takes another 17 km to Kristianstad. You drive from Malmö in approximately 1,5 hours.

Rigeleje liegt an der Ostkueste,  ca. 7 km nördlich von Brösarp,  nach Åhus sind es ca. 20 km und von dort sind es ca. 17 km in die Handeslsstadt  Kristianstad. Von Malmö fährt man ca. 1,5 Stunden.